The Uncertain (Online)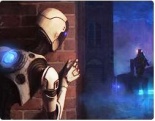 Infos
Contexte
The Uncertain est un jeu d'aventure ponctué de récits se déroulant dans un monde post-apocalyptique.

Épisode 1 - The Last Quiet Day Dans le premier épisode, vous partagez le point de vue d'un robot ingénieur RT-217NP, qui semble très intéressé par la race humaine, depuis longtemps disparue dans des guerres dévastatrices.
Description
* Jeu en anglais, sous-titré en français.
Captures d'écran
BONUS
•
Wallpapers
(0)
•
Artworks
(0)
•
Scans CD
(0)
•
Vidéos
(1)
•
Goodies
LIENS UTILES
•
En savoir plus...
•
Démo
•
Patch
•
Jeu complet
•
Sauvegarde(s)
•
Discussions sur ce jeu
•

CONTRIBUTEURS
maitrelikao