Leisure Suit Larry Reloaded Leisure Suit Larry 1 Reloaded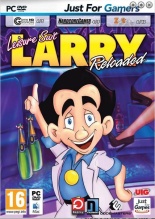 Infos
Contexte
Nous incarnons Larry Laffer, un loser âgé d'une quarantaine d'années, puceau et en quête d'aventures sexuelles, qui arrive dans la ville de Lost Wages. Avec ses tentatives de dragues lourdes et pathétiques, Larry pourra-t-il parvenir à avoir du sexe avec des filles ou pourquoi pas trouver l'amour sur son chemin ?
Description
Leisure Suit Larry 1 : In the Land of the Lounge Lizards Reloaded est le remake HD du 1er épisode de la saga sorti en 1987.

* Jeu en anglais sous-titré en français.
Captures d'écran
LIENS UTILES
•
En savoir plus...
•
Démo
•
Patch
•
Jeu complet
•
Sauvegarde(s)
•
Discussions sur ce jeu
•

CONTRIBUTEURS
Fiche et screenshots par Tex Murphy
Merci à LNP45 pour les screenshots