The Book of Unwritten Tales : The Critter Chronicles (Online)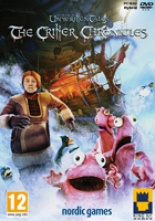 Infos
Contexte
Ce jeu raconte l'histoire de la rencontre de l'aventurier Nate Bonnett et de Critter (Créature), son comparse velu, avant leur aventure avec Wilbur et Ivo dans The Book of Unwritten Tales.
Description
Faites l'expérience d'une aventure pointer-et-cliquer hilarante et particulièrement prenante au cœur du monde fantastique d'Aventasia en voyageant du Norlands à la Tour de Mage de Seastone.

* Jeu en anglais mais il existe un patch Fr.
Captures d'écran
LIENS UTILES
•
En savoir plus...
•
Démo
•
Patch
•
Jeu complet
•
Sauvegarde(s)
•
Discussions sur ce jeu
•

CONTRIBUTEURS
Fiche réalisée par Epok.
Merci à Ghylard pour le patch Fr.