The Book of Unwritten Tales (Online)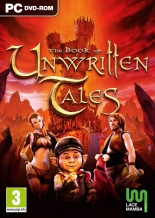 Infos
Contexte
Un ancien archéologue Gremlin est le seul à connaître l'emplacement d'un artefact légendaire. C'est pour cette raison qu'il a été enlevé par un magicien et un énorme sorcier troll pour révéler son emplacement. Un incroyable trio, composé de la fée Ivo, d'un gnome Wilbur et d'un humain Nate, commence alors un voyage pour tenter de sauver l'archéologue et le monde en danger.
Description
The Book of Unwritten Tales est un classique jeu d'aventure Point & Click rendant un hommage humoristique aux livres, films et jeux de rôle fantasy parce que tous les amoureux du genre ont remarqué, au moins une fois, des incohérences et étrangetés dans ce genre.

* Ce jeu est en anglais mais il existe un patch Fr.
* *Des sous-titres FR sont présents sur la version Steam.
Captures d'écran
LIENS UTILES
•
En savoir plus...
•
Démo
•
Patch
•
Jeu complet
•
Sauvegarde(s)
•
Discussions sur ce jeu
•

CONTRIBUTEURS
Fiche réalisée par Epok
Merci à Ghylard & Snake Eyes pour le patch Fr GOG