Through Abandoned The Underground City (Online)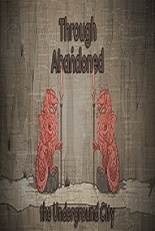 Infos
Contexte
Vous rechercher votre frère jumeau qui a disparu dans l'immense et mystérieuse cité abandonnée sous la mer.
Description
* Abandoned est le premier jeu d'Igor Krutov disponible gratuitement en anglais sur son site online depuis le 31 décembre 2014. Il a ensuite été distribué sur steam.

** Abandoned: The Chambers est la série spin-off mais uniquement en anglais.

*** Through Abandoned - The Underground City est maintenant en français.
Captures d'écran
BONUS
•
Wallpapers
(0)
•
Artworks
(0)
•
Scans CD
(0)
•
Vidéos
(1)
•
Goodies
LIENS UTILES
•
En savoir plus...
•
Démo
•
Patch
•
Jeu complet
•
Sauvegarde(s)
•
Discussions sur ce jeu
•

CONTRIBUTEURS
Surfeur de Cuivre / maitrelikao