Decay : The Mare (Online)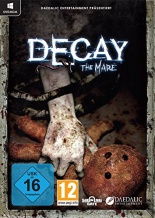 Infos
Contexte
Sam est un drogué. Il se rend dans un institut spécialisé baptisé « Reaching Dreams », bien décidé à s'en sortir et à mettre un peu d'ordre dans sa vie. Seulement dès la première nuit, les choses tournent mal et il se retrouve prisonnier d'un cauchemar sans fin...
Description
Decay – The Mare est un hommage aux jeux d'aventure horrifique comme
Phantasmagoria
,
The 11th Hour
ou encore
Gabriel Knight
.
Vous devrez résoudre des puzzles et des énigmes dans les trois chapitres qui composent ce jeu à fin multiples.
* Jeu en anglais, sous-titré en français.
Captures d'écran
BONUS
•
Wallpapers
(0)
•
Artworks
(0)
•
Scans CD
(0)
•
Vidéos
(1)
•
Goodies
LIENS UTILES
•
En savoir plus...
•
Démo
•
Patch
•
Jeu complet
•
Sauvegarde(s)
•
Discussions sur ce jeu
•

CONTRIBUTEURS
maitrelikao
merci à WoM pour les screenshots