Game of Thrones A Telltale Games Series (Online)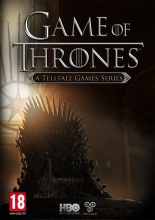 Infos
Contexte
L'histoire de la noble famille du nord de Westeros : les Forrester, affiliée aux Stark de Winterfell. Rattrapés par les événements de la Guerre des Cinq Rois, le clan est jeté dans le tourbillon d'une guerre sanglante. La vengeance, les intrigues et la terreur seront leurs armes pour se battre et survivre tandis que les sept royaumes se déchirent.

Épisode 1 : Iron from Ice

Épisode 2 : The Lost Lords

Épisode 3 : The Sword in the Darkness

Épisode 4 : Sons of Winter

Épisode 5 : A Nest of Vipers

Épisode 6 : The Ice Dragon : à paraître.
Description
Jeu d'aventure épisodique situé dans l'univers de la série US. Vous incarnerez à tour de rôle les différents membres du clan Forrester et influencerez le destin de chacun d'eux par les choix de vos actions et de vos décisions...

* Jeu en anglais mais il existe un patch FR amateur.
BONUS
•
Wallpapers
(0)
•
Artworks
(0)
•
Scans CD
(0)
•
Vidéos
(4)
•
Goodies
LIENS UTILES
•
En savoir plus...
•
Démo
•
Patch
•
Jeu complet
•
Sauvegarde(s)
•
Discussions sur ce jeu
•

CONTRIBUTEURS
maitrelikao