Everybody's Gone to the Rapture (Online)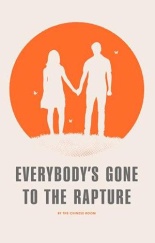 Notes
Contexte
Everybody's Gone to the Rapture est une balade interactive post apocalyptique se déroulant en 1984 dans une petite bourgade anglaise où tous les habitants se sont volatilisés suite à un étrange phénomène.
Vous devrez explorer le village pour y retrouver des fragments de lumière afin de reconstituer les derniers moments de la vie des personnes disparues avant l'évènement.
Description
* Jeu en français intégral.
BONUS
•
Wallpapers
(0)
•
Artworks
(0)
•
Scans CD
(0)
•
Vidéos
(1)
•
Goodies
LIENS UTILES
•
En savoir plus...
•
Démo
•
Patch
•
Jeu complet
•
Sauvegarde(s)
•
Discussions sur ce jeu
•

CONTRIBUTEURS
maitrelikao