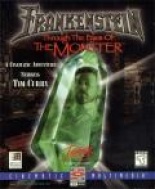 Frankenstein - Through the Eyes of the Monster
Jeu sorti en 1995 sur PC, Mac et Saturn apparemment avec voix en français mais sans sous-titres, c'est pourquoi par mesure de précaution je ne le mets pas dans "Irréductibles Gaulois".
C'est un Myst-Like - Horreur qui est disponible en abandonware pas facile sur
LTF
mais fonctionne assez facilement jusqu'à Vista

.
La fiche des jeux
ici
.
Encore un peu d'Halloween avant l'avent

.