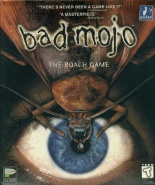 Bad Mojo The Roach Game
XIDER Games is to release the cult classic game 'Bad Mojo'. In the game the player takes control of a cockroach possessed by a mad scientist who is trying to repossess his own body.
XIDER Games est sur le point de sortir de nouveau le jeu culte 'Bad Mojo', un jeu dans lequel le joueur prend le contrôle d'un cafard, possédé par l'esprit d'un scientifique excentrique qui veut retrouver son corps.
Bad Mojo, said to be "the most original adventure game ever made" by the New York Times, and voted the "best adventure game of 2004" by PC Gamer, will be on sale in the UK from June 8th 2007.
Bad Mojo, dont on a dit dans le NY Times que c'est "le jeu d'aventure le plus original jamais créé", élu jeu d'aventure de l'année 2004 chez PC gamer, sera de nouveau vendu au Royaume Uni à partir du 8 juin 2007
A bonus DVD has been included with a 'making of' documentary, looking in detail at this original and innovative game. With a price point of £9.99, Bad Mojo is XIDER's latest outing after the ever popular Bone series of games and the highly successful Ankh: Heart of Osiris.
Un DVD de bonus sera inclus comprenant un 'making of', qui mettra en avant les particularités de ce jeu original et innovant. Avec un prix conseillé de 9,99 £, Bad Mojo est la dernière sortie de jeu de XIDER, après la populaire série de Bones et Ankh : Heart of Osiris, un hit.
Bad Mojo was developed by Pulse Entertainment and is now available as a boxed copy in retail from XIDER. Pinnacle will distribute the game and the street release will bring the game to a new audience and possibly a younger generation, having a 12+ PEGI rating.
Bad Mojo a été créé par Pulse Entertainment, et est dès à présent disponible en boite chez XIDER. Pinnacle se chargera de la distribution du jeu. On espère de leur côté que le jeu séduira une nouvelle génération de joueurs, plus jeunes, puisqu'il est certifié pour 12 ans et plus.
Publisher: XIDER Games

Developer: Pulse Entertainment

UK Distributor: Pinnacle Software

Official homepage:

http://www.XIDER-GAMES.com

Release date: 8 June 2007

Price: £9.99

PEGI: 12+

Format: PC CD-ROM

Genre: Adventure
Source : gamespress.com
Ce qui signifie que vous devez vous dépêcher de le télécharger, si ce n'est déjà fait, en abandonware...